Also just before the end of the year, the HHS Office of General Counsel (OGC) issued a strongly worded advisory opinion concluding that pharmaceutical manufacturers must offer 340B discounts through contract pharmacy arrangements. You might recall that, beginning in the summer, some drug manufacturers stopped honoring 340B pricing for Covered Entities that utilized contract pharmacies. In short, the Advisory Opinion concludes that a drug manufacturer's obligation to offer 340B pricing to Covered Entities is consistent with the unambiguous plain meaning of the 340B statute, and is "independent of whether the [covered] entity opts to use contract pharmacies to dispense the drugs." This advisory opinion, though not a final agency action or final order, "sets forth the current views" of the OGC.
These two developments are welcome news in that they demonstrate positive movement toward ensuring protection of Covered Entities like Equitas Health which in turn protects our patients' and clients' ability to access the services we provide.
We are tremendously thankful to the Equitas Health community for joining in the fight to preserve this critical source of care for Ohio's community health centers. Your emails and phone calls helped preserve healthcare for close to 800,000 Ohioans who access services at community health centers across the state. THANK YOU for your hard work on this campaign!
Sincerely,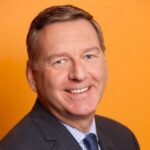 Bill Hardy
President & CEO
He, him, his