We are thrilled to celebrate Transgender Awareness Week by announcing that Nurse Practitioner Mimi Rivard, ANP, MSN, has agreed to serve as our inaugural Director of Gender-Affirming Care!
We are tremendously grateful for the trust so many members of the trans and non-binary communities have put in Mimi as she developed her unique approach to gender-affirming care at Equitas Health. By entrusting Mimi to lead Equitas Health's gender-affirming care model, we hope to ensure that anyone seeking our services—from the moment they learn about Equitas Health to every interaction that follows—will receive the same level of knowledge and respect you've come to expect from Mimi Rivard.
Mimi has been a leader on our medical team and a fierce community advocate for the last eight years. In2016 she began offering gender-affirming care and has since trained ten other providers across the system in her approach. As our first Director of Gender-Affirming Care, Mimi will provide leadership and direction for gender-affirming care services at all Equitas Health locations. Her work will include partnering with Equitas Health Clinical Pharmacist Teagan Vaughn, PharmD, RPh, to develop an integrated approach to treatment that keeps patients connected to all parts of their care team. Together, Mimi and Teagan will also develop training for all medical center and pharmacy staff.
"Mimi Rivard has done a tremendous job developing a unique approach to care for transgender and non-binary patients. The time has come for us to honor Mimi's work—and more importantly the existence and needs of transgender people across the region—with a formal model and standard of care. Mimi is our standard bearer," said Bill Hardy, president and CEO.
"This is an extraordinary moment," Mimi said. "We are tremendously grateful for the trust many in the trans and non-binary communities have given us, and we are honoring that trust by making sure their experience at Equitas Health is affirming from the moment they learn about our services to every interaction that follows."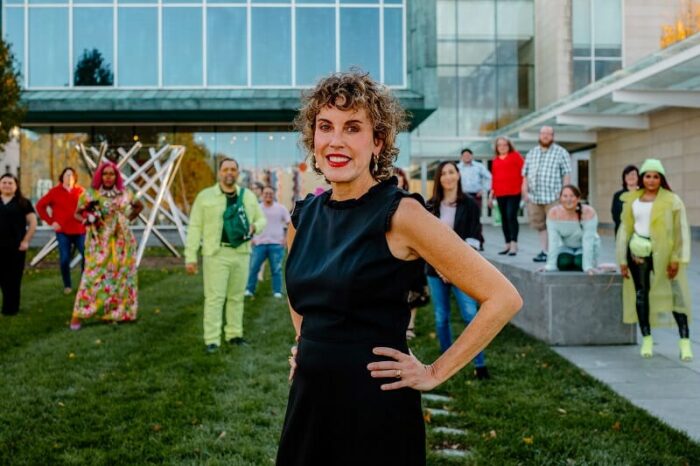 Mimi began working as a nurse and then a nurse practitioner during the height of the AIDS epidemic. She says the roots of her approach to gender-affirming care, which the agency reports has resulted in overall health outcomes that exceed the general population, come from that era.
"The palliative approach begins by determining and addressing the patient's most acute discomfort," Mimi explained. "If the patient's most pressing need is to relieve their gender dysphoria, then that's where we start. And what we are learning is that the rest follows."
And don't worry, Mimi will still see patients at our King-Lincoln Medical Center!
Are you passionate about seeing high-quality gender-affirming care become the standard in Ohio? We welcome you to make a designated contribution toward Mimi's work.
Support Gender-Affirming Care Today
All members of the LGBTQ+ community are worthy of quality, affordable, dignified care, and we are confident that Mimi Rivard is the person to set—and meet—our standards for gender-affirming care across the agency.