Black History in the Making
2020 was a powerful reminder of the fact that we must ensure the narrative of our nation's history reflects the totality of the people making it. Honoring the contributions of Black Americans at the forefronts of science, politics, medicine, entertainment, sports, and activism today is a critical step towards removing the lens of white supremacy from American history.
With this in mind, Equitas Health is celebrating Black History made and Black History in the making for Black History Month 2021.
---
Fair Fighters
Sojourner Truth | Born into enslavement in 1797, Isabella Baumfree was reborn in 1843 and renamed herself Sojourner Truth to reflect her spiritual commitment to "travel up and down the land" and speak the truth about slavery and oppression. Truth fulfilled her commitment as a world-renowned evangelist, abolitionist, author, and human rights advocate. In 1851, without practice or preparation, Truth gave her most famous speech – "Ain't I A Woman" – at the Ohio Women's Rights Convention in Akron, Ohio.
Learn more about Truth and read a transcript of "Ain't I  A Woman".
Stacey Abrams | Officially, Stacey Abrams lost Georgia's 2018 governor's race – to an opponent who oversaw the cancellation of hundreds of thousands of voter registrations after declaring his candidacy – by less than 55,000 votes. In 2019, Abrams founded Fair Fight 2020 to promote free and fair elections in Georgia and across the country. Unofficially, Stacey Abrams went on to deliver Georgia's 16 electoral votes to Joe Biden and U.S. Senate run-off election wins to Jon Ossoff and Raphael Warnock, giving Democrats control of the White House and Congress.
Learn more about Abrams and Fair Fight.
---
Game Changers
Tommie Smith and John Carlos won the gold and bronze medals respectively in the men's 200-meter sprint at the 1968 Summer Olympics in Mexico City.  Representing an America deeply divided over the Vietnam War & the civil rights movement, and still reeling from the 1968 assassinations of Martin Luther King, Jr. and Robert F. Kennedy, they decided to take a stand – on the medal podium. While the backlash was swift, the power of their silent protest resonates today as the flashpoint of athletic protest.
Learn more about Smith and Carlos and their iconic Olympic medal ceremony.
The Atlanta Dream | What do you do when the owner of your WNBA team publicly and repeatedly denounces the Black Lives Matter movement while running for re-election to the U.S. Senate in your team's home state? If you're the Atlanta Dream, you support her opponent, Raphael Warnock, by wearing "Vote Warnock" t-shirts during your warm-up for a nationally televised match-up and continue to wear them off the court and in social media posts for your hundreds of thousands of followers. Five months later, Raphael Warnock became the first Black senator from the state of Georgia, and the WBNA is close to finalizing a deal for the sale of the Atlanta Dream.
Learn more about the Atlanta Dream and why one Dream player sat out the 2020 WNBA season.
---
Research for Black Lives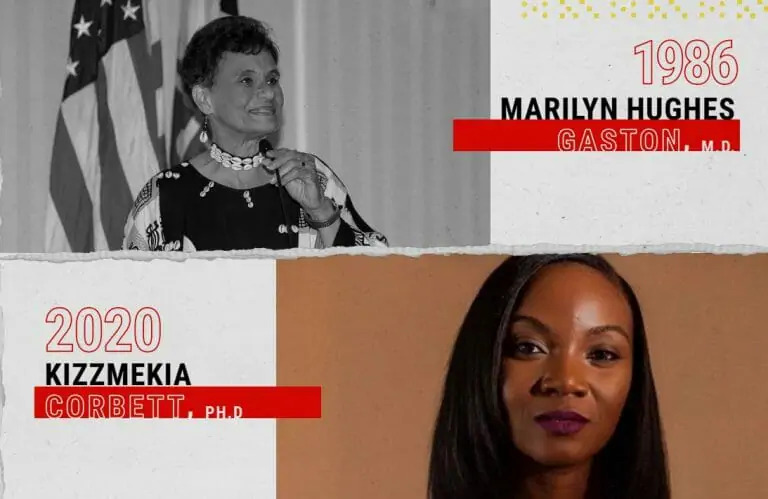 Dr. Marilyn Hughes Gaston | Born and raised in Cincinnati, Dr. Gaston overcame prejudice and poverty to fulfill her childhood ambition to become a physician. In 1960, Gaston was one of six women, and the only Black woman, in her class at the University of Cincinnati College of Medicine. Gaston dedicated her career to championing healthcare equity for poor and minority families. Her 1986 study on the benefits of screening and treating newborns for sickle cell disease inspired legislation that funded screening programs in 40 states. In 1990, Dr. Gaston became the first Black woman to lead a public health service bureau as the Director of the Bureau of Primary Health Care in the U.S. Health Resources and Services Administration.
Learn more about Dr. Marilyn Hughes Gaston and her internationally renowned career in public health.
Dr. Kizzmekia "Kizzy" Corbett is the lead scientist at the Vaccine Research Center of the National Institutes of Health. Her previous research on SARS (Severe Acute Respiratory Syndrome and MERS (Middle East Respiratory Syndrome) provided a clear and direct path to the development of Moderna's COVID-19 vaccine. The importance of Corbett's link to a COVID-19 vaccine cannot be overstated. Corbett is an inspiration to all women, and especially women of color, aspiring to a STEM career. Furthermore, given the centuries of mistreatment, neglect, and abuse of Black Americans at the hands of medical researchers and healthcare providers, Corbett wants Black people to know, "this person who looks like you has been working on this for several years." Corbett says she became vocal about her leadership in the development of the vaccine because "I wanted people to understand that I stood by the work that I'd done for so long."
Learn more about Dr. Kizzmekia Corbett.
---
Power without Apology
U.S. Representative Shirley Chisholm | After serving in the New York state legislature for four years, Shirley Anita Chisholm became the first Black woman elected to the United States Congress in 1969. During her seven terms in the House of Representatives, Chisholm introduced more than 50 pieces of legislation, championing racial and gender equality. In 1972, she became the first Black woman to seek her party's nomination for president. Blocked from televised primary debates and forced to mount a legal challenge to make a single primary speech, Chisholm still managed to enter 12 primaries, refusing to accede to the norm of white male political dominance.
Learn more about Shirley Chisholm.
Vice President Kamala Harris | In 1969 when Shirley Chisholm began her first term in Congress, Kamala Harris was getting on a bus to go to kindergarten as part of Berkeley, California's desegregation program. That kindergartner would follow Chisholm all the way to the U.S. Capitol as a freshman senator in 2017. Two years later, Harris also sought the Democratic Party's nomination for president. Joe Biden would go on to earn the nomination, selecting Harris as his running mate. On November 7, 2020, when the Associated Press declared Biden the winner, Kamala Harris became the first woman, the first Black American, and the first South Asian-American elected vice-president of the United States. Can you hear that? That's the sound of a ceiling about to shatter.
Learn more about Kamala Harris.
---
Recording the Truth
A Red Record | With her 1895 publication of A Red Record: Tabulated Statistics and Alleged Causes of Lynchings in the United States, 1892-1893-1894, Ida B. Wells reset the parameters for the national debate on vigilantism—even among anti-lynching activists. With chapters like "Lynching Imbeciles," "Lynching Innocent Men and Women," and "Lynched for Anything or Nothing," Wells' painstaking investigative journalism revealed that the data did not support the widespread notion among white progressives that lynching victims were Black men who had raped white women—men deserving of punishment through legal recourse rather than lynching. A journalist who relied on the facts to tell the story, Wells' cover page annotation gives us a window into the attitude with which she published her game-changing data: "Respectfully submitted to the Nineteenth Century civilization in "the Land of the Free and the Home of the Brave.""
Learn more about the impact of Ida B. Well's investigative journalism and read A Red Record.
#BlackLivesMatter | In response to the acquittal of Trayvon Martin's murderer, George Zimmerman, three organizers—Alicia Garza, Patrisse Cullors, and Opal Tometi—created a "Black-centered political will and movement building project called #Blacklivesmatter." Like Well's A Red Record, the Black Lives Matter movement has used the documentation and publication—this time on social media—of state violence against Black people to validate Black experiences, increase white awareness of anti-Black state violence, and build mounting pressure for an overhaul of the policing and criminal justice systems. By disrupting the use of respectability politics in the fight for racial justice, #Blacklivesmatter activism has offered a correction to the national discourse on race, insisting that racism must be addressed through a change in white behavior, not Black behavior.
Learn how Black Twitter has used social media as a crowdsourced publication tool to leverage awareness and justice.
---
Good Troublemakers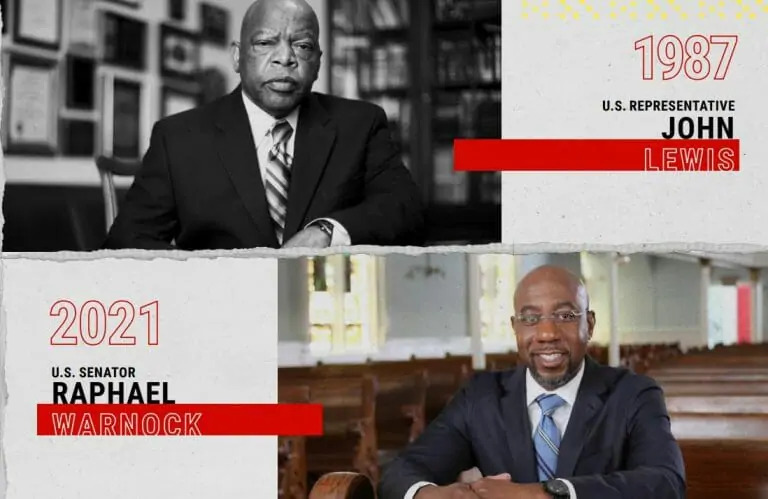 U.S. Representative John Lewis | John Lewis joined the Nashville Student Movement at age 19, beginning a lifelong commitment to making "good trouble, necessary trouble" in the name of civil rights. By the time of his death in 2020, Lewis had fulfilled this commitment in extraordinary ways, including as one of the original Freedom Riders and the youngest member of the "Big Six" that organized the March on Washington. On March 7, 1965, Lewis and Hosea Williams led over 600 marchers across the Edmund Pettus Bridge in Selma, Alabama. In spite of every arrest and every beating, Lewis remained non-violent. In 1987, his courage earned him the first of 17 terms in the U.S. House of Representatives. He ran unopposed six times. Why strike with a police baton when you have the power of the U.S. Congress so firmly in your grasp?
Learn more about John Lewis.
U.S. Senator Rev. Raphael Warnock | A young, Black boy from Savannah, Georgia grows up in public housing. Crediting the Civil Rights Movement-era program Upward Bound for his college readiness, he goes on to graduate cum laude from Morehouse College, inspired by one of its most famous alumni, Dr. Martin Luther King, Jr. This same young, Black man will earn his Master of Divinity, Master of Philosophy, and Doctor of Philosophy from Union Theological Seminary and become the senior pastor of the Ebenezer Baptist Church in Atlanta, where Dr. King famously preached. Then, less than six months after the death of civil rights legend U.S. Rep. John Lewis—a member of Warnock's congregation—Rev. Raphael Warnock becomes the first Black man elected to the U.S. Senate from the state of Georgia. Amen.
Learn more about Rev. Raphael Warnock.
---
Black Girl Magic
The Shirelles | Before the Supremes, before TLC, and way before Destiny's Child, The Shirelles were the first Black girl group to score a Billboard number one hit with the song "Will You (Still) Love Me Tomorrow." Released in 1960, the song reached the top of the Billboard charts on January 30, 1961. A benignly sexual ballad about a woman wondering if her partner will leave her broken-hearted after they spend the night together, "Will You (Still) Love Me Tomorrow" was considered racy at the time and some radio stations were reluctant to play it. In 2010, Rolling Stone ranked the song 126th on its list of the 500 Greatest Songs of All Time.
Learn more about the Shirelles and listen to Will You Love Me Tomorrow.
Cardi B. & Megan Thee Stallion | It makes you wonder. Did Cardi B. and Megan Thee Stallion observe the backlash over Jennifer Lopez and Shakira's Super Bowl Half Time Show and say, "Hold my beer"? Dropped on August 7, 2020, "WAP" is a delightfully raunchy ode to the power of lubricated female genetalia. "WAP" crushed the record for first-week streams (93 million), spent four weeks atop the Billboard Hot 100, and recorded the strongest week of download sales (125,000) since Taylor Swift's "Me!" in 2019. All of which left Cardi & Megan's haters drowning in a wake of Black Girl Magic and scrambling for a bucket and a mop.
Read more about the Conservative Right's continued attempts to police Black women's sexuality and watch the video for "WAP."
---
Blockbusters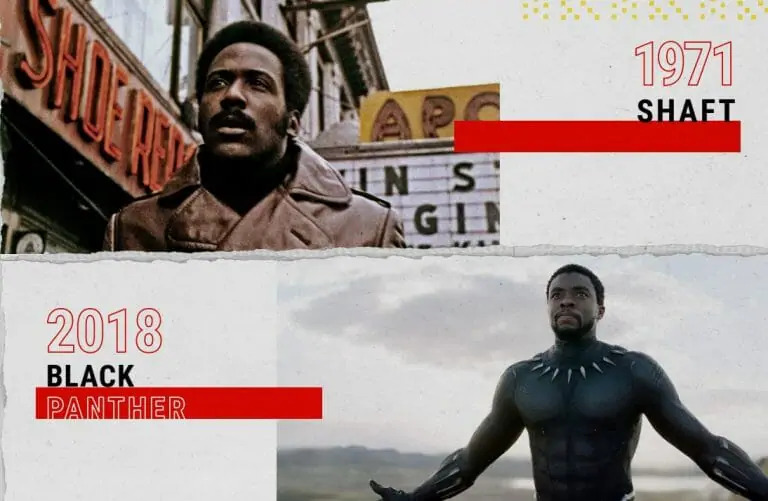 Shaft | Starring Richard Roundtree in the titular role of private detective John Shaft, Shaft is widely regarded as the most important film of the Blaxploitation genre. While some criticize the genre for reinforcing stereotypes of Blacks as junkies, criminals, and prostitutes, Blaxploitation films created unprecedented opportunities for Black actors, directors, and writers in the 1970s. Furthermore, Shaft gave Black audiences a hero of their own to cheer who stood up to the Man and defended his community. If Sidney Poitier's Virgil Tibbs in the 1967 film In the Heat of the Night is the cinematic portrayal of respectability politics, then Richard Roundtree's John Shaft is Hollywood's leading man for the Black Power movement. And with an Oscar-nominated Best Original Score and Oscar-winning Best Original Song by Isaac Hayes, shut your mouth.
Learn more about Shaft and listen to Isaac Haye's iconic theme song.
Black Panther shattered the lingering myth in Hollywood that there wasn't a market to justify greenlighting a blockbuster film with a primarily Black cast. Against a $200 million budget, Black Panther would go on to make $1.35 billion worldwide, becoming the highest grossing solo superhero film of all time, the third highest grossing film in the Marvel Comics Universe, and the third highest grossing superhero film overall.  If you still don't believe representation in film matters, do a Google Images search for 'children pay tribute to Chadwick Boseman.'
Learn more about what Black Panther means to the Black community.
---
Disrupting Disparity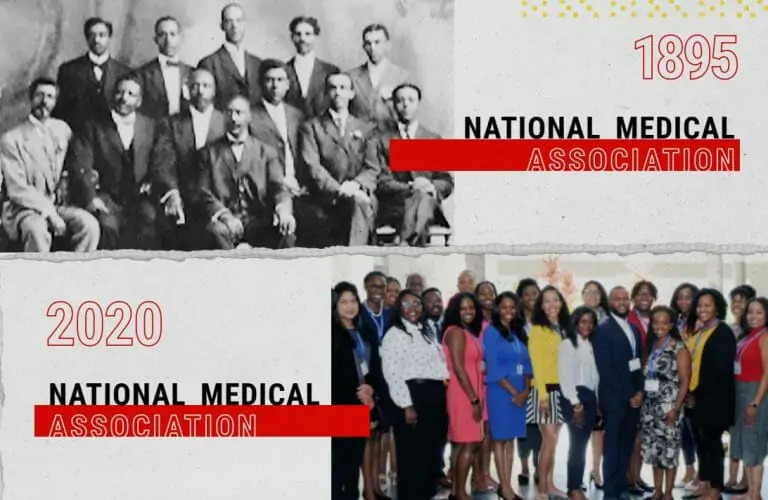 Then | Denied access to membership in and the political influence of the American Medical Association, the founders of the National Medical Association (NMA) sought to represent the interests and knowledge of Black physicians and their patients. Confronting segregated, substandard, and abusive medical practices and facilities, the NMA set out to address the healthcare needs of the Black population and increase the number of Black physicians. The NMA's persistent grassroots advocacy for both the 1965 Civil Rights Act and the establishment of Medicare contributed to the eventual passage of both—a dual victory, which resulted in the desegregation of the nation's hospitals as Medicare payment required compliance with the Civil Rights Act.
Learn more about how Black healthcare activism has shaped the development of healthcare provision in the United States in this podcast from the 1619 project.
Now | In September of 2020, the National Medical Association announced the formation of an independent COVID-19 Task Force on Vaccines and Therapeutics. Responding to mounting evidence that government scrutiny of treatment and vaccine development was being swayed by political interests over scientific method, the NMA task force conducted an independent review of the FDA's emergency use authorization approval of COVID-19 vaccines. Recognizing that the medical research industry's historic targeting and abuse of African-American communities has made it hard for people to trust vaccines, the NMA task force is on the frontline of outreach and education efforts to help Black people access the information needed to make decisions about COVID vaccination.
Learn more about the NMA's efforts to offer independent oversight and analysis of COVID-19 treatment and vaccination.
---
Sending a Message
Fifth Avenue, NYC | Boldly using the airspace at their disposal, NAACP activists flew this flag from the organization's Fifth Avenue, Manhattan headquarters from 1920 to 1938 when the landlord forced them to remove the flag or face eviction. The message, flying over a busy thoroughfare in the nation's largest city, demanded awareness of the state-sanctioned murder of Black Americans, and required all who moved past the flag to reckon with that awareness.
Read about artist Dread Scott's 2016 "update" of this iconic message.
Black Lives Matter Plaza, DC | Days after then President Donald Trump used federal force against protestors outside the White House in order to clear a path for his own photo-op, D.C. mayor Muriel Bowser ordered Trump to remove federal law enforcement and military from the city, and had city workers paint the words "Black Lives Matter" in enormous letters on 16th Street in front of the White House. Though her action did not address protesters call for defunding the city's police force, the use of city funds to paint the message "Black Lives Matter" makes the bold claim that advocating for Black lives is the duty of our government and not a matter of political or personal opinion.
Black people account for close to half of the D.C. population—the largest racial group in a city that has no representation in federal or state government. Learn more about the fight for the D.C. Vote.