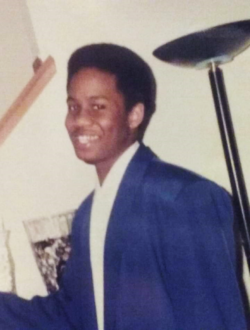 Despite growing up in a small town within a conservative state, Corey's parents were very progressive, and his mother was engaged with local theater productions that exposed him to people from a variety of backgrounds. "Homosexuality runs rampant in my family," says Corey. At first he didn't fully understand what contributed to some people being more lively or funny. He remembers being confused as a child in the 1980s as he tried to understand why people he found so much fun to be around seemed to die so young.
Corey describes his upbringing as "very religious." Having attended a private religious academy as a young child, he shared that, "I'm still religious. I use religion to center myself to help other people. I'm not one to ever force religion on people. I've seen the damage that it does." He went on to describe seeing friends and family members sent away to religious camps or forced into conversion therapy by their families because of who they were.
During his sophomore year of high school, he moved with his family to Dublin, Ohio. As he settled into his new school, he became friends with some seniors, and, through them, Corey became aware of the Columbus AIDS Task Force. When he became a senior, he volunteered to stand outside of the old Union Station to hand out safe sex packets to patrons as they were leaving for the night. Each kit contained a dental dam, condom, and packet of lube. He shared that he also first met Heather Llewellyn, Equitas Health's Director of Events, about this time.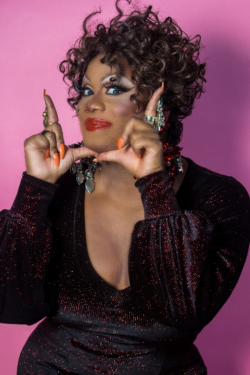 Being young and gay, Corey recalls being inquisitive and trying, through asking questions and some trial and error, to "grasp the mechanics of gay sex." During his late teens and early 20s, he recalls seeing "so many good men come and go." In 2005, he lost seven friends to HIV. That scared him. Having been aware of HIV from a young age, safety was always a factor for him, but it became even more so after that. In addition to condom use, he maintained a notebook documenting his sexual encounters in case he ever tested positive. This way he could retrace his steps to learn when and from whom he might have contracted it and to warn others he saw after.
On July 6, 2000, in what he describes as "a dare and a joke from Virginia West," Corey performed in drag for the first time. Anisa Love was born. He said that, despite having been around drag shows and drag performers for years at that point, he "did not see the money of it." That first performance, he said that he left the stage with $300 in five minutes.
It didn't take long for Corey to connect performing in drag to this activist roots. He shared that, growing up, his father told him, "I will never be mad at you if you stand up for the right thing. If you are doing it to help other people, then you stand in your convictions."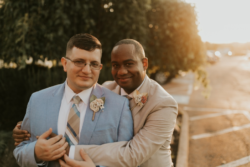 Having combined his passion to help others and his gift for drag performance for years now, Corey says, "I never cared about the money," but he also expressed that he cannot stand for injustice, stating, "I got angry when I saw people being mistreated." Corey has channeled that anger into passion, and, through the embodiment of Anisa Love, is still using his voice to raise awareness about HIV and AIDS.