Showcasing Local Artists & HIV Awareness
Equitas Health is proud to provide a platform for patients, clients, and community members who express themselves through art.
Local artists living with or impacted by HIV can apply to show their work in the new ART UP Gallery at the King-Lincoln Community Health Center & Pharmacy.
ART UP!
Equitas Health connects with clients and neighbors through our services, support groups, special events, and more. Art is one more way to build community, share stories, and care for one another.
The ART UP Gallery is meant to raise awareness, spark conversation, stop stigma, and provide a platform for people impacted by HIV. The gallery continues Equitas Health's celebration of local artists established in its biennial Art for Life art auction. You may even see the work of artists who have been featured in Art for Life on display in the ART UP Gallery!
Next Up!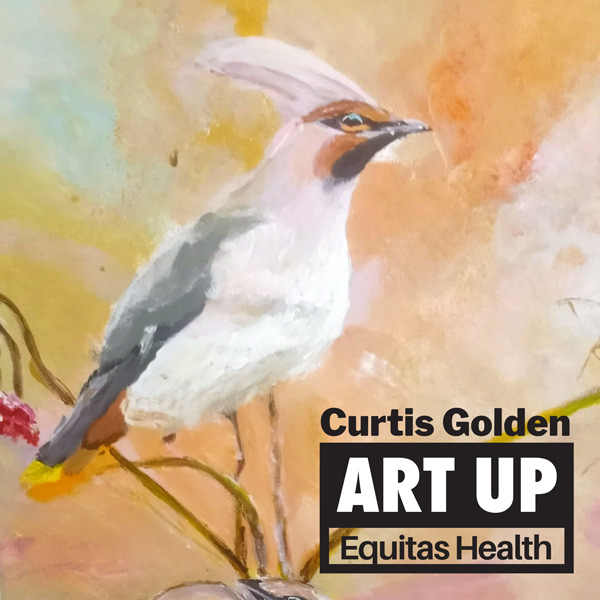 Curtis Golden is the first artist chosen to show his work in the ART UP Gallery. Golden is a Columbus native and painter whose work was part of the Art for Life auctions in the 1990s.
Diagnosed with hemophilia at age 5, Golden passed the time during his many hospital stays by coloring and drawing comic book characters. At age 12, he began to use paint and blend colors. Golden was mentored by several different artists and studied at the Priscilla R. Tyson Cultural Arts Center. There, he learned about technique, expression, and how to develop his style.
Golden left Columbus for six years to work with his mentor and artist Paul Emory in the Paul Emory Gallery. Golden also showed his work at the Zanesville Museum of Art and collaborated with Zanesville artist Wayne Savage. Golden later went to work at the Works Gallery in Newark before moving back to Columbus.
The artist works out of Studio 100 at the Millworks Gallery on Leonard Avenue. He shows throughout Columbus and looks forward to being part of the ART UP Gallery.
"Art connects people. It's a good communication tool. To me, art is an awakening to life," said Golden.
His work on display in the gallery includes paintings of birds. He uses acrylic paint, blending colors, to bring the birds to life on canvas. Golden overcame many health issues and doctors' early predictions about his life expectancy. The birds represent a sense of freedom for him.
"Birds have no limits or boundaries. They appear to go beyond the horizon," said Golden.
To contact the artist, email cjgolden@gmail.com.
You're Up!
Artists who want to show their work can submit an application to Equitas Health's Art UP committee.
The application asks for a statement about how HIV has impacted their lives, their art, and their communities.
A committee will review submissions on a quarterly basis.
The artist's work will remain on display for three months.
Helping you find and pay for the care you need
You can schedule an appointment by phone, MyChart, or with our online appointment request form.